Things move along slowly.  I can usually get 14 to 20 inches of this 'shelf' part of the layout sceniced in a basic way every couple of days then I just move on down the line.  Things are pretty much predetermined as to what it will kook like so no surprises.
           At the tunnel entrance we opted for a short spur and maintenance workers shack.  John Green reinstalled the track signal light used to protect the single track over the bridge and one of his lighted pickups.  I put in the simple overhead light.
            It was a challenge blending in the new hillside scenery with the old, scene here, because it was produced using a completely different method.  No one will notice.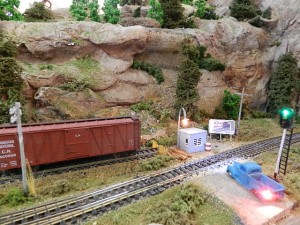 4-1
          The Summerland station has been lighted up, completely reconditioned and given a place of honour now rather than being lost and unused near a curve on a hillside.  It even has it's own station track now as well as a lengthy passing siding.
          This lovely little wood and paper model was built for us by a modeller in Summerland.  A copy can be seen at the Summerland museum.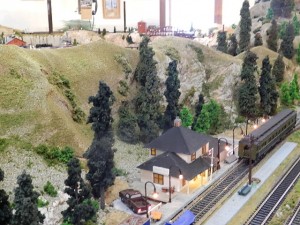 4-2  
          This 9 foot long display has been divided into four small vignettes offering different scenes that have undefined borders blending into one.  This forest scene, is something on it's own but it simply divides the busier station scene from the quiet orchard at the end of the siding.
          Nearly all of the trees are made in-house by our members.  We have a busy night once a year cutting up cider shingles, furnace filters and spraying them with cheap rattle cans.  Dropped wet in a box of ground foam and they're done.
          This year, for variety, we added smaller trees from on-line China and some higher end Woodland Scenics products.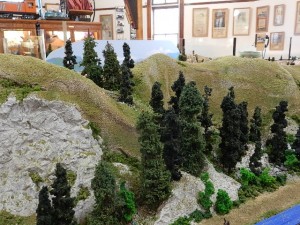 4-3
          We have finished the loading platform for the orchard.  No.  There are no mainline tracks running through and stopping in orchards around here but it's our railway so…..
          Also, it gives us an opportunity to add more lights and these will look very nice as guests reach the top of the stairs. That, besides our operating needs, is the reason we do all this.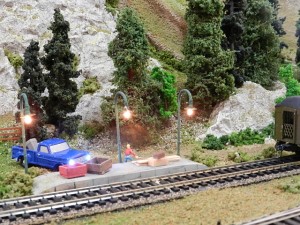 4-4 
          Here is a bit of an overview showing the first leg of the rebuild.  This section has to be finished by the end of February.  Not done yet but the farm house and the orchard at the lower left will finish it off nicely.  I expect to have the glass back in place just after the weekend of the 22/23rd.  Then we can move at a gentler pace inside the horseshoe.
4-5
         I must mention the hours and hours of work that has gone on unseen under this whole section.  Old wiring removed; new colour coded wires are in place and properly identified on electrical panels and terminal boards.   Various power supply buss is simplified and easy to find.  As it always should be.